In January, Palm Beach Art Week is filled with art fairs, and art events throughout several art districts in Palm Beach County. The heart of art week is in the City of West Palm Beach.
Similar to the way Miami's art week revolves around the premiere art fair – Art Basel, Art Week West Palm Beach is centered around Palm Beach's biggest contemporary art fair – Art Palm Beach.
PalmBeachArtWeek.com is your ultimate guide to art week – fairs, exhibitions, pop-up galleries, artists, parties, and more.
Palm Beach Art Week 2019
ArtPalmBeach Week is scheduled for January 16-20, 2019.
Below you will find our comprehensive art week event guide:
With more art fairs popping-up each year, West Palm Beach indeed celebrates an ART Month of events. Art cannot be contained into one week, so we list events happening throughout the month of January. Check out our map, followed by a full list of events.

Art Palm Beach 2019
January 16-20,2019
Art Palm Beach is dedicated to contemporary, emerging, and modern master works of art of the 20th and 21st centuries. Over 85 international galleries will be exhibiting paintings, sculpture, as well as functional and innovative design. Art Palm Beach is internationally recognized as the premiere mid-winter contemporary art fair on Florida's Gold Coast by both art critics and enthusiasts.
nextlevelfairs.com/artpalmbeach/
Venue: Palm Beach Convention Center
650 Okeechobee Boulevard
West Palm Beach, FL
Continuum Arts West Palm Beach
January 10-19, 2019
Pop-up art fair held annually in Downtown West Palm Beach featuring South Florida artists. The 10-day fair will host a Venetian Mask Fundraising Gala, Body Painting Competition, Fashion Show, Live Entertainment, and more.
ContinuumWPBarts.com
Venue:
426-428 Clematis Street
West Palm Beach, FL 33401
Palm Beach Modern + Contemporary Art Fair
January 10-13, 2019
An international art fair presented by Art Miami and hosted by the City of West Palm Beach. PBM+C will provide a fresh opportunity to acquire important never-before-exhibited works from both the primary and secondary markets in an intimate light.
ArtPBfair.com
Venue: 825 S Dixie Hwy, West Palm Beach, FL, 33401
FOTOfusion 2019
January 21-26, 2019
The 24th Annual International Festival of Photography and Digital Imaging.
"Where Creativity and Technology Fuse."
Produced by the Palm Beach Photographic Centre.
FOTOfusion.org
Venue: Palm Beach Photographic Centre
415 Clematis Street
West Palm Beach, FL
Urban Stories Festival
January 26-27, 2019
The Howl at the Moon URBAN STORIES FESTIVAL is a two-day storytelling event celebrating West Palm Beach, Florida – what was, what is, what could be.
UrbanStoriesFestival.com
Venue:
Downtown WPB, FL
Events are scheduled to take place at Palm Beach Atlantic University, Mandel Public Library, and Subculture Coffee on Clematis.
ArtFest on the Green
Saturday, January 26, 2019 9:00am-5:00pm
Sunday, January 27, 2019 10:00am-4:00pm
The 13th Annual Juried ArtFest on the Green is an annual juried art show featuring artists from around the country. This event is organized by the Wellington Art Society.
Venue: Wellington Amphitheater
12150 Forest Hill Blvd., Wellington, FL
ArtNight Out
January 25, 2019 6:00-9:00pm
Enjoy the creative lifestyle of Northwood Village during ArtNight Out – featuring live entertainment, murals, local artists, live painting, gallery exhibitions, and vendors along Northwood Road, between Broadway and US1.
Venue: Northwood Village
400 Northwood Road
West Palm Beach, FL 33407
Northwood Village
Lot23 Gallery
Lot23 ArtWeek
January 2019
Lot 23 artists hold FREE weekly classes at several locations in Northwood Village.
January 25, 2019 6:00-9:00pm
Lot23 artists invite you to their studio for a clothing painting party and art exhibition.
January 26, 2019
FREE Printmaking Workshop with local artist Steve Brouse.
550 Northwood Rd., West Palm Beach, FL
The Gallery at the Center for Creative Education
Opened in late 2013, the gallery features monthly exhibitions of both group and solo portfolios.
Earth From Space
September 2018 to January 2019
Gallery hours: Tuesday – Saturday 10:00am – 5:pm
Harold's Coffee Lounge
"More than Coffee, It's a Movement." Voted #1 Coffee House Award by NEW TIMES!! This coffee shop features frequent solo art shows. Stop by for some "underground caffeinated culture" and local art.
509 Northwood Rd., West Palm Beach, FL
Monday – Friday: 7am – 10pm
Saturday: 8am – 10pm
Sunday: 9am – 6pm
Lake Park Arts District
Brewhouse Gallery
Serving coffee by day and craft beer/wine by night, the Brewhouse Gallery is part eclectic hipster lounge, part modern New York art gallery.
Don't forget to enjoy street art by local and international street artists that beautifies our cities. Come across murals in Downtown West Palm Beach, Northwood Village, and Lake Park. Find them on our map.
Murals in Downtown West Palm Beach

"The Jam" is a mural featuring 5 musical icons that have passed away. Painted by local artists Mark "Bulks" Rupprecht, Anthony Hernandez, Eduardo "EMO" Mendieta, Paul Hughes, and Mayling Pao. Find it on the Respectable Street Wall on Clematis Street in Downtown West Palm Beach.
Throughout downtown – the West Palm Beach Arts & Entertainment District – you will find many murals from local and international artists.
Northwood Village Street Art
Sprinkled in Northwood Village you'll find murals and street art in unique locations – Artists' Corner, the backyard of a coffee shop, and even a community garden.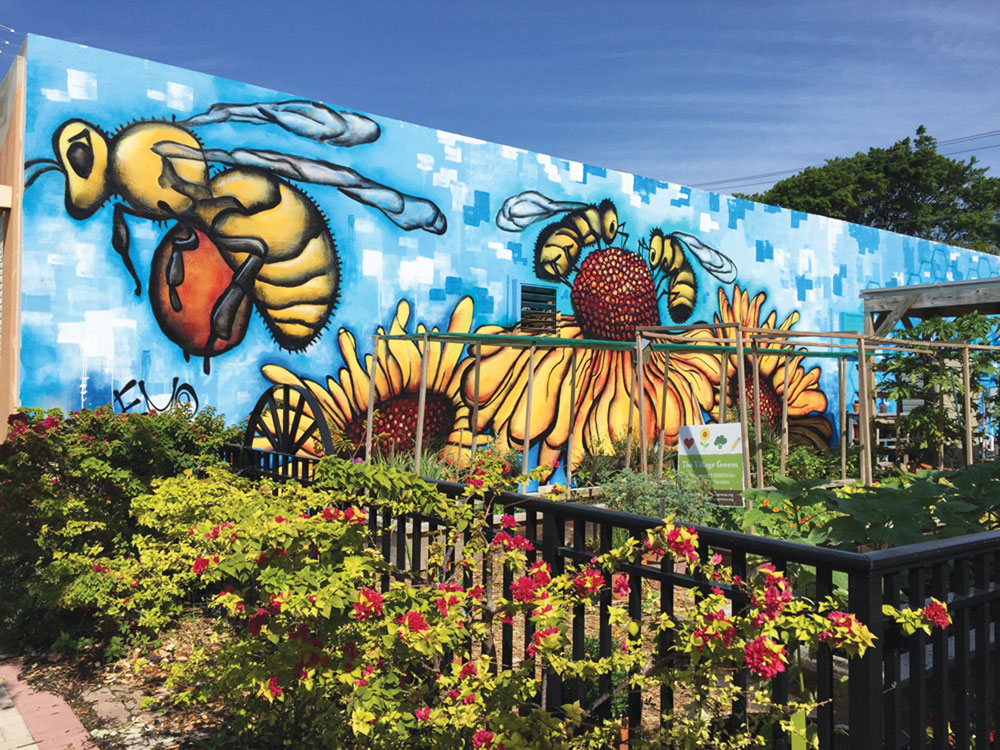 Bumble Bees Mural by Eduardo Mendieta at the Village Greens Community Garden.
Also located in the Northwood Village Arts District are 7 murals on shipping containers painted by local artists – Anon, Ron Burkhardt, Jennifer Chaparro, Cheryl Maeder and Marilyn Walter, Eduardo Mendieta, Ruben Ubiera, Luis Valle. Recently moved, most of them can be found on Artist Corner (Broadway Ave. & and Northwood Road), and the other two are just across the street, next to Lot23 Gallery (550 Northwood Road).
Lake Park Arts District
Here you will find a long wall behind the Kelsey Theatre and The Brewhouse Gallery. Painted in 3 phases, this back alley features about a dozen local artists.
Museums
Norton Museum of Art
Ann Norton Sculpture Gardens
The Society of the Four Arts
Henry Morrison Flagler Museum
Please come back as we continue to post information to "this essential 2018 Art Week Guide, complete with an online map detailing art fairs and galleries, plus convenient date and time listings."